Eurocasa has a variety of kitchens to suit your desired style and investment plan.
Defining your investment plan is important as you need to consider factors such as the specific kitchen models as well as the different finishes, countertops, appliances and accessories within our collections. In turn, your choices can influence the cost of your imported kitchen, which can range anywhere from R300,000 to R3 million for the same size and space.
This overview below should help clarify available options so that you can properly understand the financial preparation required, and plan your investment level for this part of the home. The Eurocasa team is committed to finding the best possible solution based on your requirements for fulfilling your dream for your ideal Italian kitchen.
The below examples are fully functional kitchens, showcasing different materials, finishes and models that we offer at Eurocasa.
Marble Aria island, with sliding covers that open up side- and lengthways to reveal hidden fittings in the functional areas
Leathered marble finish on outer and inner tops, doors and drawer fronts
Vein-matched countertops featuring a marble basin with a retractable stainless-steel tap and a flush-fitting panoramic gas hob (120cm wide)
Internal drawers and shelves in an acacia wood veneer finish
Metallic supporting base, enclosed by an anthracite cover plate, to elevate the marble block creating the impression of floating above ground
Centrepiece with Calacatta gold marble countertop featuring an integrated marble sink
Island base units in matt lacquer with each door and drawer front trimmed in stainless steel
Two Domino gas hobs and a Teppanyaki hob with integrated downdraft extractor finished with a marble top for an invisible look
Full-height, gloss lacquer tall and top-tall units in pocket-door style to configure the functional backdrop of the arrangement
Marble Aria island, with sliding covers that open up side- and lengthways to reveal hidden fittings in the functional areas
Leathered marble finish on outer and inner tops, doors and drawer fronts
Vein-matched countertops featuring a marble basin with a retractable stainless-steel tap and a flush-fitting panoramic gas hob (120cm wide)
Internal drawers and shelves in an acacia wood veneer finish
Metallic supporting base, enclosed by an anthracite cover plate, to elevate the marble block creating the impression of floating above ground
Centrepiece with Calacatta gold marble countertop featuring an integrated marble sink
Island base units in matt lacquer with each door and drawer front trimmed in stainless steel
Two Domino gas hobs and a Teppanyaki hob with integrated downdraft extractor finished with a marble top for an invisible look
Full-height, gloss lacquer tall and top-tall units in pocket-door style to configure the functional backdrop of the arrangement
Tall, base and top unit combination creates 'portal' look
Pietra, lacquered, high-gloss finish on doors and drawer fronts
Matching engineered stone countertop includes integrated sink and induction hob countertop element in stainless steel
Open section with contrasting burnished brass splashbacks, which include floating glass shelves, framed by accent-yellow glass sliding-door unit
Acacia wood veneer for open and closed reduced-depth wall units
Built-in oven and corresponding black lacquer panel to complement tall units
Tall unit, back run with satin-blue Marino coloured glass, framed on both sides with geometric bronzed glass doors; includes lighting and glass shelves
Aluminium door structure realized in champagne finish
Island featuring satin Bianco-coloured glass drawers, Frassino Chiaro Tranché backing panel, and breakfast bar on champagne-coloured legs
Gas hob and sink set into the smooth white stone countertop finish on the island
Oven and microwave in tall back run
Tall, base and top unit combination creates 'portal' look
Pietra, lacquered, high-gloss finish on doors and drawer fronts
Matching engineered stone countertop includes integrated sink and induction hob countertop element in stainless steel
Open section with contrasting burnished brass splashbacks, which include floating glass shelves, framed by accent-yellow glass sliding-door unit
Acacia wood veneer for open and closed reduced-depth wall units
Built-in oven and corresponding black lacquer panel to complement tall units
Tall unit, back run with satin-blue Marino coloured glass, framed on both sides with geometric bronzed glass doors; includes lighting and glass shelves
Aluminium door structure realized in champagne finish
Island featuring satin Bianco-coloured glass drawers, Frassino Chiaro Tranché backing panel, and breakfast bar on champagne-coloured legs
Gas hob and sink set into the smooth white stone countertop finish on the island
Oven and microwave in tall back run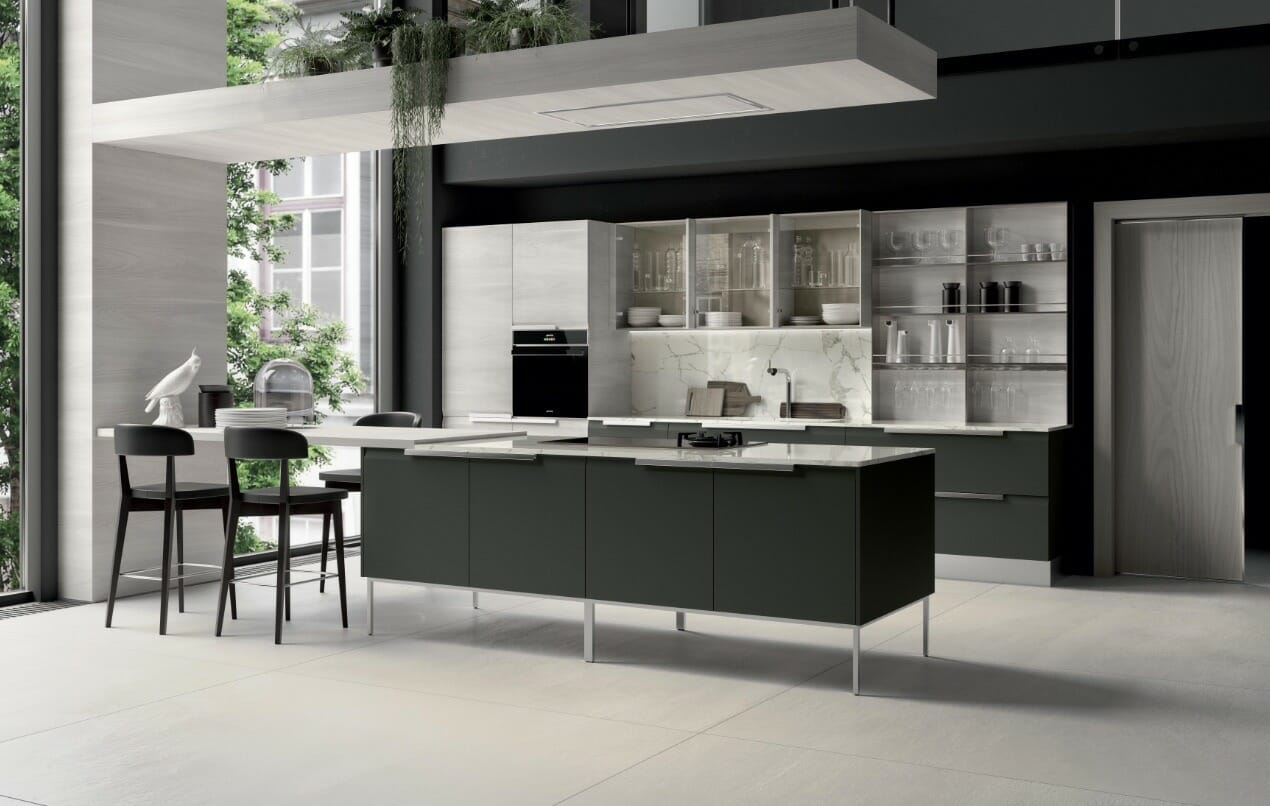 Showcases doors and drawer fronts with handles positioned in the diamond-cut upper part of each panel
Finished in Nobilitato Olmo Sugar and matt lacquer Grigio Fango
Countertop in Calacatta marble finish
Bold metal supports elevate island off the finished floor
Wall units in Cemento Sahara finish include clear glass doors on the back, next to reduced-depth counter units framed in champagne-lacquered aluminium
Under-mount sink positioned within back-run counter
60cm eye-level oven
Gas and induction hob on island, with hidden extractor hood in bulkhead above
Breakfast bar in Olmo Sugar adjacent to island
Noce gold finish on base units and open wall-mounted bookcase elements
Matt lacquer Grigio Fango finish on wall and tall units, front and side
Reduced-depth modular counter units in matt-black aluminium on Nero Ingo Fenix countertop, including backing panels
Matching grooves and plinth in aluminium Nero finish
Sink and gas hob integrated in countertop
Steam oven built into side tall run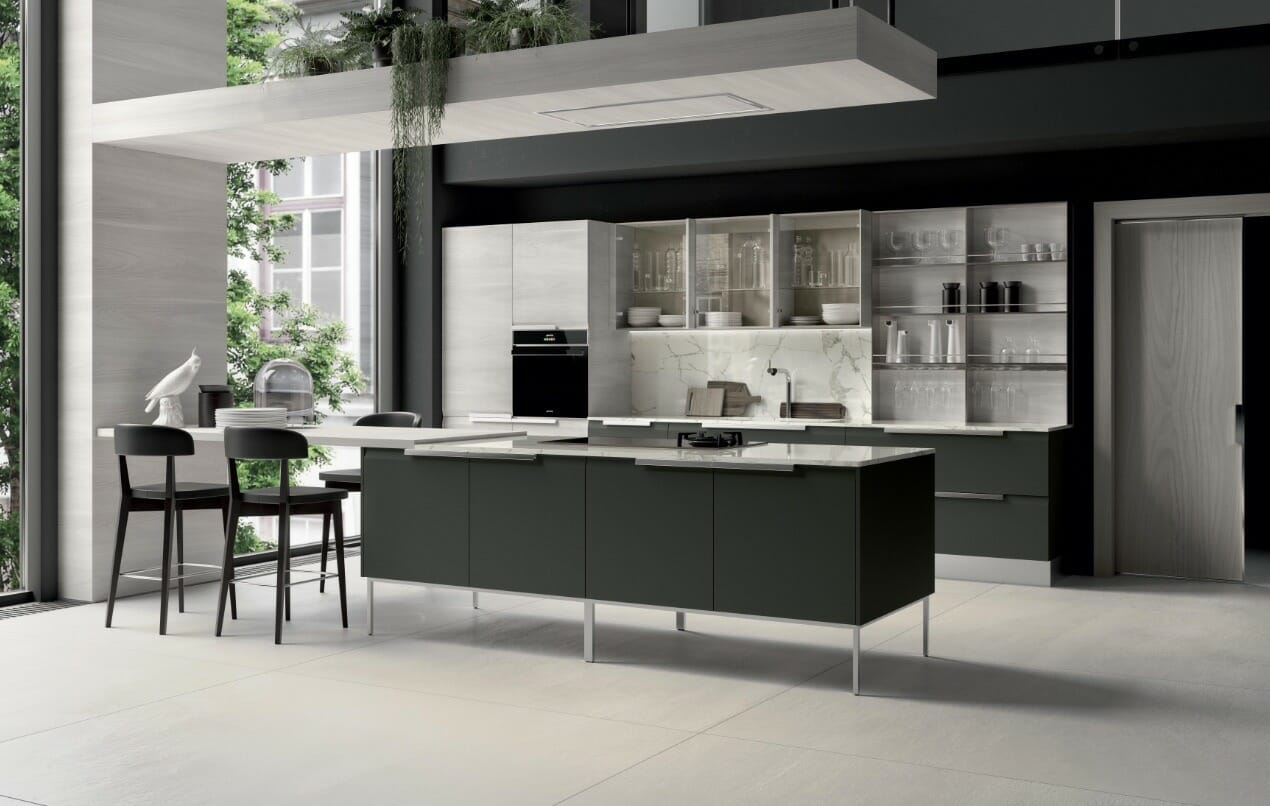 Showcases doors and drawer fronts with handles positioned in the diamond-cut upper part of each panel
Finished in Nobilitato Olmo Sugar and matt lacquer Grigio Fango
Countertop in Calacatta marble finish
Bold metal supports elevate island off the finished floor
Wall units in Cemento Sahara finish include clear glass doors on the back, next to reduced-depth counter units framed in champagne-lacquered aluminium
Under-mount sink positioned within back-run counter
60cm eye-level oven
Gas and induction hob on island, with hidden extractor hood in bulkhead above
Breakfast bar in Olmo Sugar adjacent to island
Noce gold finish on base units and open wall-mounted bookcase elements
Matt lacquer Grigio Fango finish on wall and tall units, front and side
Reduced-depth modular counter units in matt-black aluminium on Nero Ingo Fenix countertop, including backing panels
Matching grooves and plinth in aluminium Nero finish
Sink and gas hob integrated in countertop
Steam oven built into side tall run